Do you want to redeem a Spotify code, make sure you are logged into the correct Spotify / Facebook account first. It would be a waste if you redeem the code on the wrong account.
By: PC / Smartphone
Go to www.spotify.com/redeem/.
Log into your Spotify or Facebook account.
Enter theSpotify code you purchased from eGiftcards24.
Press redeem
Press redeem
Congratulations! You now have a Spotify Premium subscription.
Spotify Unlimited
Not all Spotify users can redeem their code for Spotify Unlimited, as Spotify is going to cancel this subscription type. Luckily, users that already had an account from before 1-1-2014 can still choose this option.
View my Spotify subscription
If you're not sure whether you've got a Spotify subscription on your account, you can view your current subscription on www.Spotify.com.
Picked the wrong Spotify Subscription
Did you accidentally redeem your Spotify code for Spotify Unlimited, when you actually wanted Premium? Don't worry, there's a solution for that! Unfortunately, you can't switch subscriptions yourself, you'll need to link a PayPal account or credit card to your Spotify account.
To change your subscription, contact the Sportify Helpdesk, fill in this form. Send a message explaining how you acccidentally picked the wrong subscription and that you would like to have Spotify Premium. Also include the Spotify code you used in your message.
Spotify will contact you within 2 work days and change your subscription. Unfortunately, there isn't a quicker solution (yet).
'The Spotify code you entered has already been used'
This means that you already redeemed the Spotify code, you can't redeem the code twice. To find out where you redeemed the code, go to current subscription of your account.
'You can only redeem the Spotify code in the country of purchase'
Are you on holiday or do you live abroad, you will probably get this error message. Spotify uses your IP-adress to determine where you are at that moment. To use your Spotify subscription straight away, we recommend tocontact Spotify. Send a message that you can't redeem the code, and as kif they can do that for you manually. Include the code you purchased in your message. It can take up to two work days before Spotify replies.
'We currently can't redeem your code.'
Don't worry, this means that you still have an active Spotify subscription on your account. Go to your subscription overview to see which subscription this is and when it will expire. You can only redeem the code once your current subscription has expired.
Can't wait? Contact the Spotify Helpdesk to ask Spotify to redeem the code manually for you, this can take up to 2 work days. Include the code your purchased in your message, as well as your account and the desired subscription.
Redeem automatically
When you purchased a Spotify Gift Card at eGiftcards24.com, you can redeem the code on our redeem page. When you redeem the code on our redeem page, Spotify will automatically be opened so you can redeem the code.
Go tot he redeem page
Need help?
Still having trouble? Contact our support team, we are here to help you out!
Go to the Support Team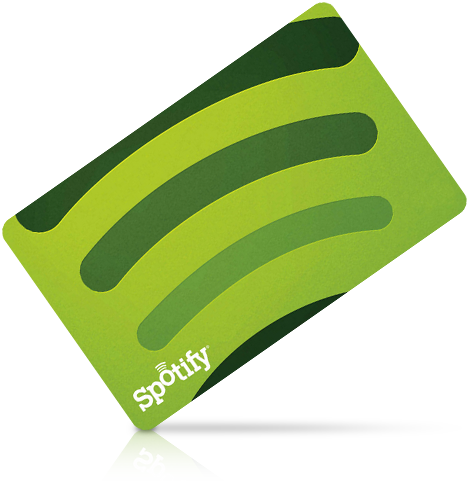 Buy a Spotify Gift Card
Do you want a Spotify Premium or Unlimited subscription? Buy a Spotify Gift Card by paying with iDEAL, Mister Cash or Bitcoin, among others
Delivered directly to you email
After payment, a Spotify code will appear on your screen which is directly redeemable on your Spotify account. You will also yeceive an email with the invoice and your Spotify codes.
Redeem the e-code that you received by e-mail by using our redeem page.